by Barbara Croner & Sheila Joshi
Since the beginning of time, humanity has described a particular kind of experience that many people have had, but many have not had. It involves terrible suffering. It lasts a very long time. During much of it, there is no help or relief that can be had. Eventually, it draws to an end, culminating in a return to life, often with additional gifts.
Maybe 1000 years later, the ancient Greeks wrote their own descent myth about Persephone, who is abducted, raped, and held captive by Hades, king of the Underworld. It's bad, no one will help; it goes on awhile. Finally, her mother Demeter pressures her father Zeus into negotiating her release. Deals are made, she has to spend part of every year in the Underworld, but is allowed to return to the world.
In 2009, the heirs of Carl Jung allowed his account of his descent experience to be published for the first time. Over the course of many years, from about 1914 to 1930, Jung wrote and drew about his own frightening falling apart, during which he confronted the darkness in himself and in the world (including WWI). He wrote and drew in order to save himself. It was bad, there was no help. It went on a long time. Eventually, he found help from beings he encountered in his mind who may have been parts of himself, archetypes, and/or spirits of the dead.
Years later, he said that his most important ideas, the ones he worked on for the rest of his life, and that we remember him for, all came out of this period.
There are some human experiences that, no matter what you do, require waiting through a long time in great tension.
The transcendent function is Jung's name for this process, and the tertium non datur is the result of the process.
We will now explore why the passage of so much time is unavoidable; why tension (often in the form of pain and fear) is unavoidable; the unpredictability of the tertium non datur; some specific implications about neurological damage and psi; some thoughts on the relationship between the tertium non datur and the Tao; and, finally, what comes after the arrival of the tertium non datur.
A descent experience has much in common with any deep spiritual practice, but it is usually more painful and less rewarding for awhile.
In the Fall of 2010, Jack Kornfield, Ph.D., psychologist and Buddhist monk, spoke at one of The Red Book Dialogues in San Francisco. In discussing Jung's descent, and descent experiences in general, he said your worst fears are the gateway to your enlightenment. You must face them, you must suffer, yet you must not get lost in the experience either. You stay present to your fears, you wait, you listen. It can take a long time. If you can trust the desert, at some point, it rains. Then, you find out what your gift, your contribution to the world is, "some new extraordinary wholeness appears and that's who you really are."
Ah….pain and fear….these are the very worst aspects of a descent experience, but keep reading because we hope to give you some thoughts to help you with them.
And --
And –
Elliott writes about the developmental inevitability of agony:
And the cross as symbol of the psyche:
What it means to embrace the cross:
Individuation and the cross:
The tension between the ego and the Self:
But, if you withstand the tension, a tertium non datur will emerge, "forcing the energy of the opposites into a common channel. The standstill is overcome and life can flow on with renewed power towards new goals" (Jung, CW 8, par. 827 in Sharp, 1991).
Jung wrote:
So you have a person who is experiencing the profound physical, cognitive, and emotional dislocation of neurological damage and recovery, who is also automatically equipped to draw information from any place and any time and to affect matters beyond physical reach, but they either don't know this at all, or are only beginning to suspect it, or believe it, but still can't make it operate very well.
David Sunfellow, the Founder of NewHeavenNewEarth, wrote:
In a seminar given in the 1930s, while discussing a dream, Jung explains: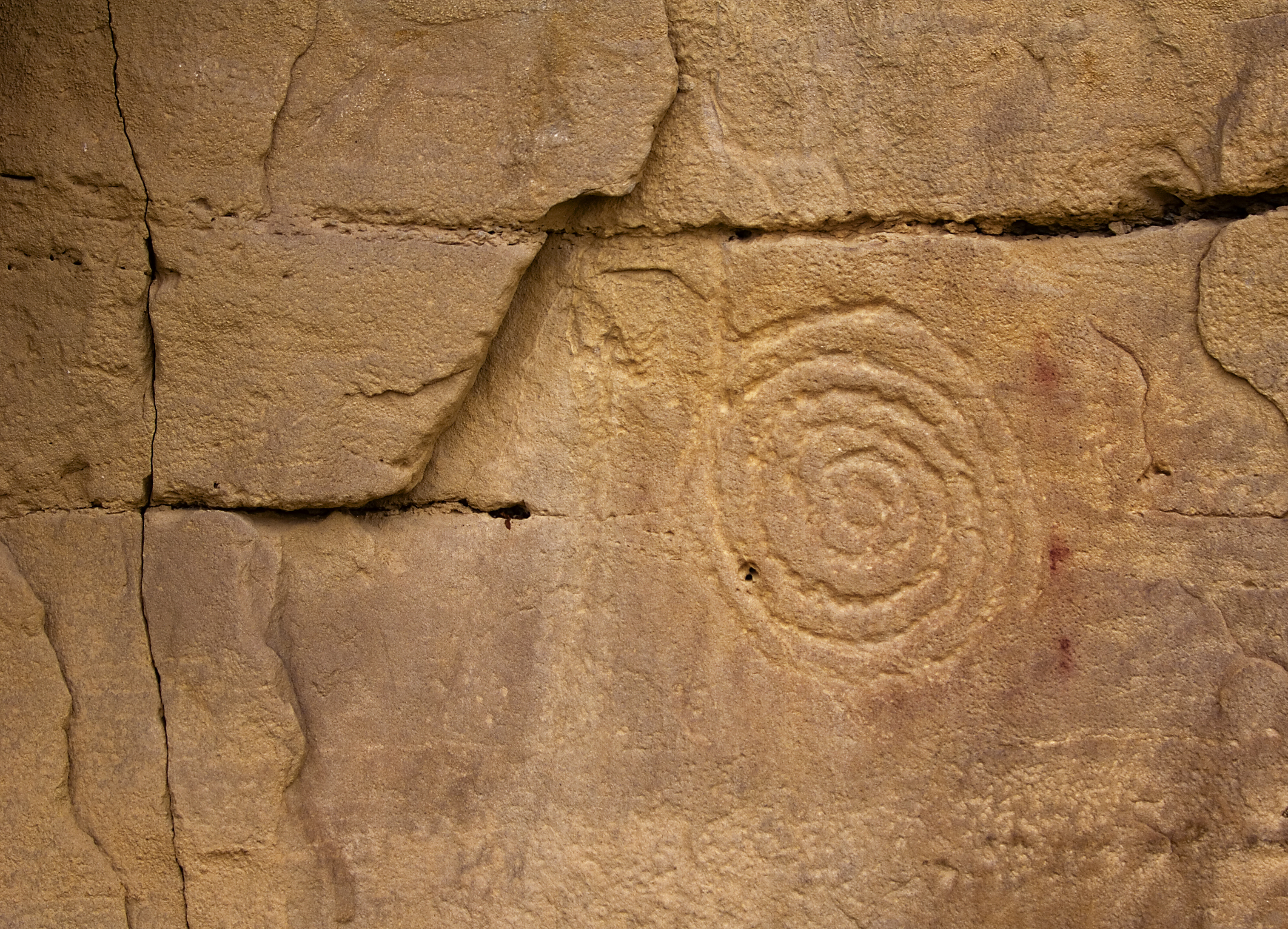 Spiral petroglyph -- Chaco Canyon
According to the Jungian Analyst and lexicographer Daryl Sharp:
=================
=================